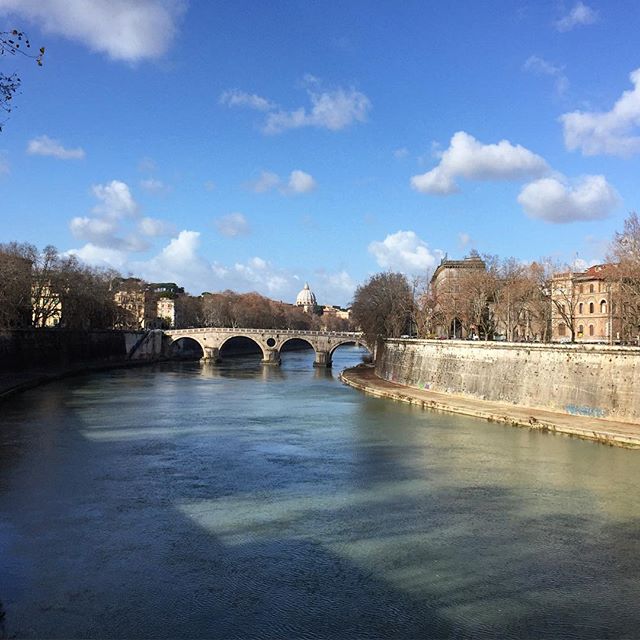 Rome.  A thousand images come to mind with this one word.  Those images often include sunshine, blue skies or people sitting out in a piazza.  The spring, summer and fall months of April through October are indeed a beautiful time of year to be in Rome, but I'm here to let you know about some very compelling reasons to consider coming to Rome in the winter months from November through March.
1.  Fewer visitors
High season in Rome runs at least 7-8 months – from March through October. It starts off slow, but then Rome gradually starts bursting at the seams and the popular spots in particular can be suffocating.  Yet come the winter months, and in particular January and February, and there's a less frenetic pace.  Not that Rome is ever a ghost town, but there's just more breathing room in the winter.
The Big 3 – Rome, Florence and Venice – become different cities in the winter.  In a way you can even say they are returned to their residents when the insanely large crowds have all but disappeared.  One of the main reasons is the weather.  Most people want blue skies and dazzling sunshine when visiting Italy.  However, while colder temperatures, rain and grey clouds don't coincide with many people's preconceived ideas of Rome and Italy in general – it also makes for an experience that is unique and yet just as wonderful if not more so.  You can still find plenty of cloudless skies and bright days in winter, but walking in Rome's center on a crispy cold night with the golden glow of its street lights and the city wrapped in fog, mist or rain will also make some great memories and moody photographs.  With the lack of crowds, the sights, the smells are much easier to appreciate and that's when you can truly experience the magic here.
Many people think March and April being the start of high season, will be a good combo of nicer weather and less people, but keep in mind that these months are also the time of year European schools have their class trips.  Many popular sights and museums are taken over by hordes of school groups during the spring months.
2.  Lower airfares and accommodation prices
Rates are less in the winter than at other times of the year and even lower if you are internet savvy or have a great travel agent.  Within Europe, low cost airlines such as RyanAir, EasyJet, AirOne, Transavia, and Vueling to name a few are always a bargain, but even more so during low season.  Norwegian is moving into the low cost market and has begun to offer lower fares both for transatlantic and inter European travel.  Many accommodations (including yours truly) have lower prices during this time of year and during particularly slow periods additional discounts are sometimes available.  In the summer it can be difficult to find a place, and if you're traveling around without firm plans, hoping to book as you go, you'll waste a lot of time trying to find something decent at the last minute.  In the winter, places like our Beehive which are booked up in high season have space available in low season.
3.  Sightseeing – as in actually being able to see the sights
Rome can be sensory overload – traffic, people, and so much to see. Going to the Vatican Museums when you're already fatigued is a recipe for disaster, but fatigued you will feel after waiting in a queue in the heat of summer for over an hour (if you haven't bought your tickets in advance) and battling the crowds in the too narrow and hot passageways.  Want to visit the Borghese gallery in May and didn't reserve weeks in advance?  It's not likely you'll get a reservation at the last minute.  On the other hand, in Florence, several years ago in February, I was able to walk right into the Accademia, no queue to buy my ticket and had a completely unobstructed view of Michelangelo's David.  The same was true for the hike up to the cupola of the Duomo there – no wait and no crowds at all.  In peak season, you're competing with a much larger pool of people to see all the same sights .  Visiting when it's less busy, you'll not only cruise right into many of these places, often without reservations, but you'll also have more breathing room to actually enjoy what you're looking at.
4.  Food (you can't get Roman artichokes in the summer!)

My favorite time of year for food here is the winter. Roman artichokes, greens galore, chestnuts, cavolo nero (kale) and don't even get me started on the citrus – clementines, mandarins and Sicilian blood oranges called tarocchi.  There's nothing like a glass of red wine and a hearty soup or pasta dish on a cold, dreary day, a cup of thick hot chocolate with panna (whipped cream) to warm you up or a cozy cocktailwhen the rain is coming down.  And gelato knows no season!
5.  Slowing down – a true holiday experience
In the winter, your energy levels aren't depleted by the heat or the crowds, if you get caught in a rain shower or feeling a bit cold, step into a cozy cafe to read or write or hang out with your travel partner sharing a drink and good conversation instead of non-stop sightseeing.  The shorter days are a good motivation for getting up earlier to take advantage of the daylight and to get a bit more sleep at night.  While it's great to see everything – you have to reconcile with the fact that you really won't see and do everything – so take this time during Rome's winter season to enjoy the city in a unique and special way.