Updated 31 March 2017
The Beehive is conveniently located to Termini train station, but we often forget that many of our guests don't have any idea just how close.  In addition, visitors unfamiliar with the area or train travel in general may find using the train and the arrival a bit intimidating – Termini is a large, loud and chaotic mess even for those of us who are used to it.
Several summers ago, my then 11 year old daughter, Giulia, showed how painless it can be to take the train in the opposite direction – from Termini to the airport, and essentially, you just need to do it in reverse to get to The Beehive.  In this post, I hope to show you how fairly straightforward it is to get from Fiumicino (Leonardo da Vinci) airport to Rome's Termini train station on the Leonardo Express airport train to a friendly face at The Beehive.  (Arrivals from Ciampino airport will be another post).
The first direct train from FCO to Termini leaves at 06:23am and leaves every :08 :23 :38 and :53 minutes past the hour.  The last train to Termini is at 23:23/11:23pm.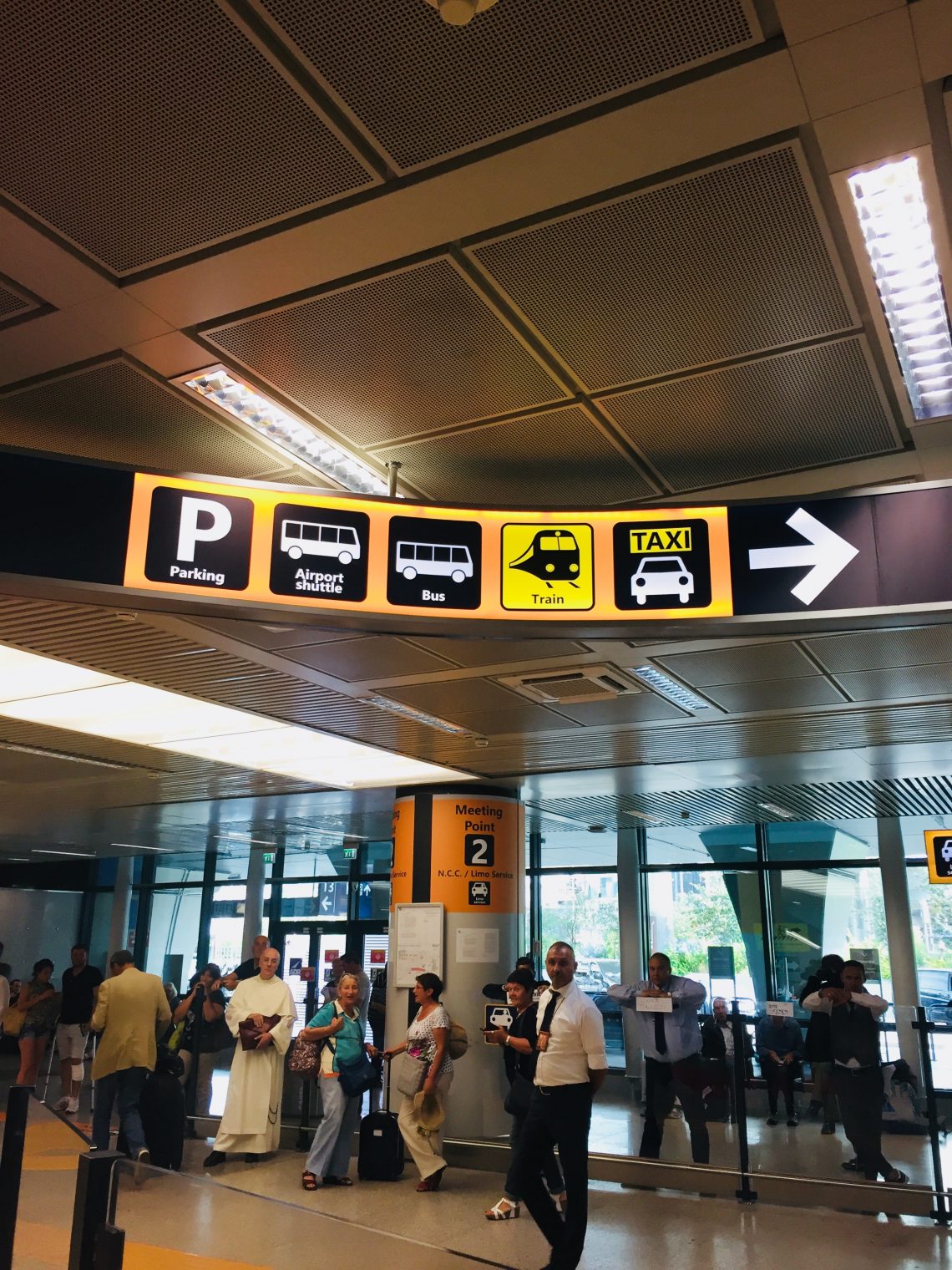 From the baggage claim at Fiumicino you want to follow the signs to the trains.
It takes about a 10-15 minute walk (depending on your baggage situation and walking pace), and several escalator rides to get you to the train departure point.  When you arrive, you'll have several options to purchasing a ticket – ticket offices, tobacco shop or self-service machines.  My suggestion would be to use the self-service machines.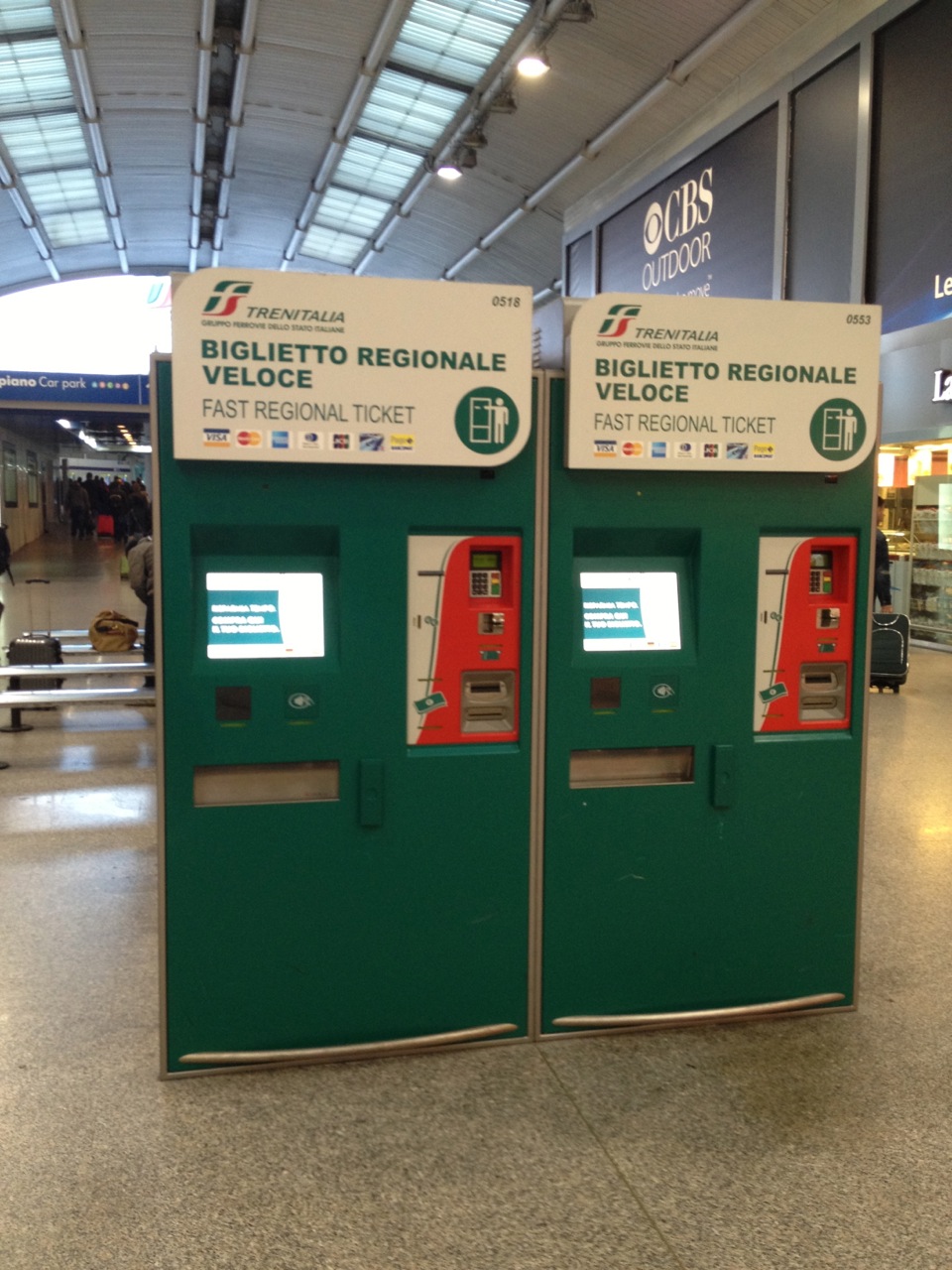 The machines are multi-lingual, quick and easy to use, you don't pay an additional service charge like you do at the ticket offices and you usually don't have to wait or wait very long to use one.  It accepts credit cards (with chip and with PIN) as well as cash in euro.  The price is €14 each for a one way ticket.  IMPORTANT:  Please remember to stamp your ticket at these green and white ticket validation machines before boarding the train.  They do control tickets on the train and you will be fined €50 if it's not stamped.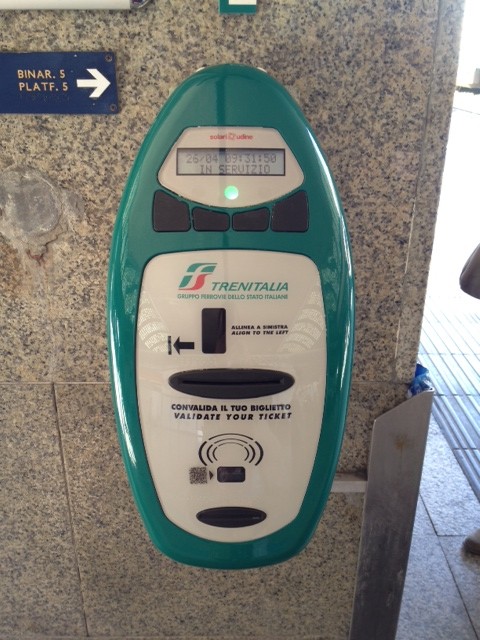 The journey from Fiumicino to Rome's central train station Termini takes 30 minutes.  The train USUALLY arrives at Platform 24 if you are lucky which is close to the main gallery, but sometimes it does disembark at Platform VERY FAR AWAY so note that this can change at the whims of Trenitalia.  If you are at the far away platforms, please note you'll need to walk for about 10 minutes or so to the main gallery.  Do not take stairs or escalators leading down to the basement.
If you are lucky and get off at Platform 24, you'll see this sign for the binario (track) number 24 and a slight ramp which leads you into the arrival/departure hall.
You want to continue going straight – passing the hall and into the main gallery which is full of advertising and many shops.
The station has 3 main entrances/exits, and with the train tracks behind you, take the exit to your right which is the furthest exit from Platform 24.  So walk confidently towards that exit – you'll pass many tempting little shops which continuously change, but in either case you might be inclined to have a little break on your way to The Beehive.
***IMPORTANT: Unfortunately, pickpockets heavily target Termini train station.  It is VERY IMPORTANT that you keep an eye on your belongings and do not allow anyone to help you with your luggage or if you are alone – to try to distract you from your belongings by offering to help you while another team member opens up your purse or backpack.  Ladies, please do not have totes (unless they are zippered) or other open bags with you in Rome.***
When you arrive at the large open exit – across the street you'll see on the left corner a book shop called Don Bosco and on the right corner Bar Trombetta.
With the station exit behind you, continue walking straight ahead.  This is our street – via Marghera.  You can see the street name on the Don Bosco building.
The walk is only 2 blocks, about 5 minutes from this exit.
This is the view of Termini from in front of our door.  As you can see, we are very close to the station.
It's a non-eventful walk and soon you will arrive to this corner where there is large yellow building with a yellow wall.  Behind that yellow wall with the trees and vines is The Beehive – you are almost there!
Cross the street and soon afterward, you'll notice on your left a silver door, our sign and the #8.  Please do keep in mind that numbers across the street do NOT match with the numbers on our side of the street.
Press the buzzer on the wall to your right, soon you'll hear a click – push open the door and there in front of you are our colorful wooden fish and our Welcome sign.
Up a couple of steps and through the door and you'll be cheerfully greeted by our manager Yuli (pictured here) or one of our other friendly faces – Francesca or Steve.
After you've done it one time, you'll see how easy it is to get from the station to The Beehive, your home away from home in Rome.